Lenovo ThinkBook 15 G2
- Intel Core i5-1135G7 (4C/8T, 2.4/4.2GHz, 8MB)
- 8GB DDR4-3200 + 8GB SO-DIMM DDR4-3200
- 512GB SSD M.2 2242 PCIe 3.0x4 NVMe + Empty M.2 2280 PCIe 3.0x2 SSD Slot
- Intel Iris Xe Graphics
- Windows 11 Pro 64
Funzionalità
Incrementa la tua produttività
Ottieni prestazioni di altissimo livello con il notebook Lenovo ThinkBook 15 di seconda generazione (Intel), grazie ai processori avanzati Intel® Core™ di undicesima generazione e alla tecnologia IA. Con un massimo di 2 TB in opzioni di storage a doppia unità SSD e fino a 40 GB di memoria, questo potente notebook aziendale ti consente di far fronte anche a carichi di lavoro a intensità elevata. E grazie alla modalità Intelligent Cooling, il surriscaldamento non sarà più un problema.
Esperienza visiva avanzata
Lo schermo di Lenovo ThinkBook 15 di seconda generazione offre una risoluzione FHD e il 100% della gamma opzionale di colori sRGB per immagini realistiche con colori e contrasto accurati. è progettato per prevenire gli sfarfalli e su alcuni modelli supporta la certificazione TÜV Rheinland di bassa emissione di luce blu. Scegli un modello di touchscreen per migliorare la tua esperienza utente grazie a navigazione e interazione intuitive.
Semplice ed elegante

Il notebook Lenovo ThinkBook 15 di seconda generazione (Intel) consente a te e ai tuoi dipendenti di distinguervi, grazie all'elegante e professionale design a due tonalità. Le mascherine sottili offrono un rapporto schermo-area visiva dell'88%. E con uno spessore di soli 18,9 mm e un peso di appena 1,7 kg, è abbastanza sottile e leggero per essere trasportato ovunque.
Connessione ovunque

La tecnologia Wi-Fi 6 veloce consente download più rapidi, maggiore larghezza di banda, minore latenza e conferenze senza interruzioni. E il collegamento delle periferiche è semplicissimo, grazie a un'ampia selezione di porte, tra cui Thunderbolt™ 4, USB-C, HDMI, USB 3.2 di prima generazione e altre ancora.
Sicuro, protetto e smart
Il notebook Lenovo ThinkBook 15 di seconda generazione (Intel) protegge i tuoi dati aziendali e la tua privacy personale. Sono disponibili funzionalità hardware e firmware come Trusted Platform Module (TPM), controllo dell'accesso alle porte I/O, cancellazione sicura e molte altre. Un otturatore per la webcam a tutela della privacy ti consente di bloccare fisicamente la webcam quando non la utilizzi. E le funzionalità smart completano la tua esperienza: ottieni il massimo dai contenuti visivi con l'upscaling della risoluzione video, gestisci il microfono tramite modalità predefinite e avvia il tuo Lenovo ThinkBook all'istante semplicemente aprendo il coperchio superiore.
Lenovo ThinkBook 15. Tipo di prodotto: Computer portatile, Fattore di forma: Clamshell. Famiglia processore: Intel® Core™ i5, Modello del processore: i5-1135G7. Dimensioni schermo: 39,6 cm (15.6"), Tipologia HD: Full HD, Risoluzione del display: 1920 x 1080 Pixel. RAM installata: 16 GB, Tipo di RAM: DDR4-SDRAM. Capacità totale di archiviazione: 512 GB, Supporto di memoria: SSD. Modello scheda grafica integrata: Intel Iris Xe Graphics. Sistema operativo incluso: Windows 11 Pro. Colore del prodotto: Grigio. Peso: 1,7 kg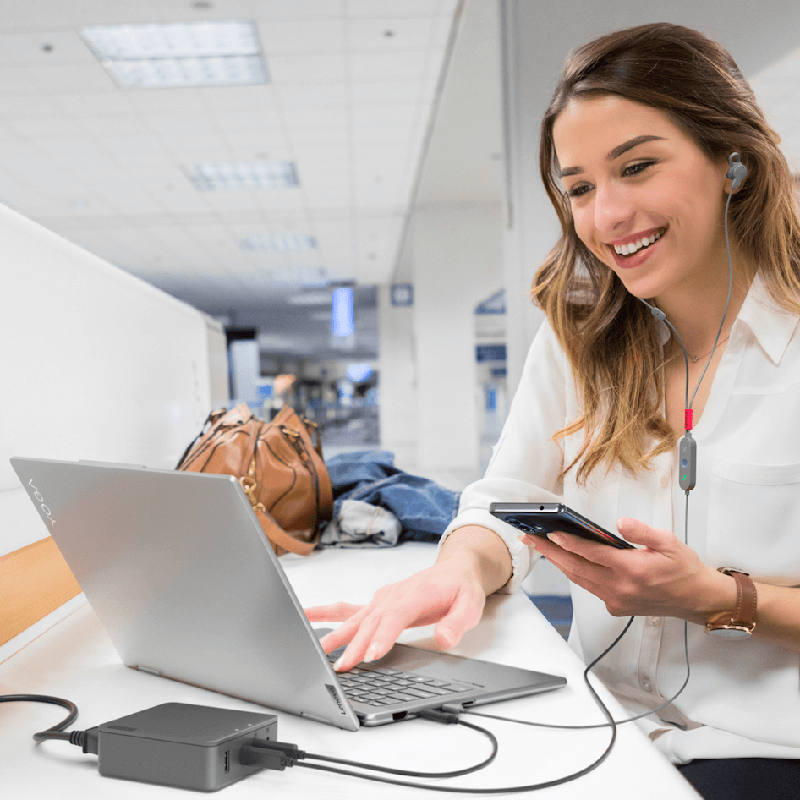 Trust our experts
Find the best solution for you
Do you need more information about our products?
We are at our customers' service to always provide an accurate analysis of your needs, identifying the best technological solutions.