Lenovo ThinkPad L14 Gen 1 (AMD)
Notebook entry-level senza compromessi in fatto di prestazioni
Con tecnologia AMD, il notebook ThinkPad L14 (AMD) offre un equilibrio perfetto tra portabilita' e prestazioni, ideale per le imprese. La connettivita' Wi-Fi 6 all'avanguardia ti porta online rapidamente, mentre la connettivita' WWAN opzionale mantiene la connessione anche quando non e' disponibile una rete Wi-Fi. Le chiamate con un solo tocco ti permettono di risparmiare tempo e aggiungono praticita' alla tua giornata di lavoro.
Connettivita' senza limiti
Con il notebook ThinkPad L14 (AMD) e' piu' semplice rimanere in contatto con cio' che conta, grazie alla tecnologia Wi-Fi 6 e alla connettivita' WWAN opzionale*. Da un accesso piu' veloce al server allo streaming video ininterrotto, la straordinaria connettivita' di questo notebook migliora la produttivita' durante il lavoro e l'intrattenimento nel tempo libero, ovunque tu vada.Conference call piu' facili
Il notebook ThinkPad L14 (AMD) ti permette di rispondere alle chiamate e di avviare e chiudere le conferenze telefoniche in tutta semplicita' con i tasti funzione F9-F11. Prova le chiamate con un solo tocco per semplificare la tua giornata di lavoro.
Goditi cio' che vedi
Il notebook ThinkPad L15 (AMD) ti consente di scegliere tra pannelli HD e Full HD, con l'opzione di un touchscreen per i modelli Full HD. Tecnologia Dolby Audio TM aggiunta per migliorare la qualita' audio, cosi' potrai goderti i film in streaming e i tuoi brani musicali preferiti nel tempo libero.Autonomia di un'intera giornata
Grazie a una batteria che dura tutto il giorno, con il notebook ThinkPad L14 (AMD) non dovrai piu' restare alla scrivania, ma potrai svolgere le tue attivita' ovunque.
Sicurezza smart
La suite integrata di soluzioni per la sicurezza ThinkShield protegge il tuo sistema. Il chip Trusted Platform Module (dTPM) dedicato esegue la crittografia dei dati, mentre il lettore di impronte digitali opzionale garantisce un accesso rapido e sicuro. Inoltre, l'otturatore ThinkShutter per la privacy permette di chiudere fisicamente la webcam solo con un dito. L'esclusiva tecnologia AMD Memory Guard consente di eseguire una crittografia completa della memoria.Resistenza su cui contare
La conformita' a dodici specifiche militari che ne garantiscono la resistenza e oltre 200 controlli di qualita' assicurano il funzionamento del notebook ThinkPad L14 (AMD) in condizioni estreme. Dai ghiacci artici alle violente tempeste di sabbia nel deserto e alle semplici infiltrazioni di liquidi, e' il notebook su cui contare per affrontare le situazioni piu' ardue.
MEMORIA DI MASSA: 512 gb SSD (Solid State Drive) M.2 NVMe PCIe
GRAFICA: AMD Radeon Graphics
PROCESSORE: AMD Ryzen 5 PRO 4650U 2,1 GHz
MONITOR: 14'' IPS FHD (1920x1080) 16:9 Opaco
DIMENSIONI E PESO: Peso: 1,61 kg | Altezza: 2,04 cm | Larghezza: 33,1 cm | Profondita': 23,5 cm
GENERALE: Colore Primario: Nero | Trusted Platform Module (TPM): Si'
RAM: 8 gb DDR4-SDRAM 3.200 MHz | RAM Massima: 64 gb | Banchi RAM Totali: 2 | Banchi RAM Liberi: 1
Nessuna Unita' Ottica
TASTIERA: Tastiera Retroilluminata senza tastierino numerico | Resistente all'acqua
AUDIO e WEBCAM: Audio Dolby Realtek ALC3287 | Microfono Integrato: Sì | Webcam integrata: 720p HD
CONNESSIONI: Ethernet: 10/100/1000 | Wi-fi: Wi-Fi 6 (802.11ax) | Bluetooth: Versione 5.2
1x HDMI | 2x USB 3.2 Gen 1 tipo A | 1x USB 3.2 Gen 1 tipo C | 1x USB 3.2 Gen 2 tipo C | 1x Ethernet LAN (RJ-45)
BATTERIA: 45 Wh | Fino a circa 15 ore
SISTEMA OPERATIVO: Windows 10 Professional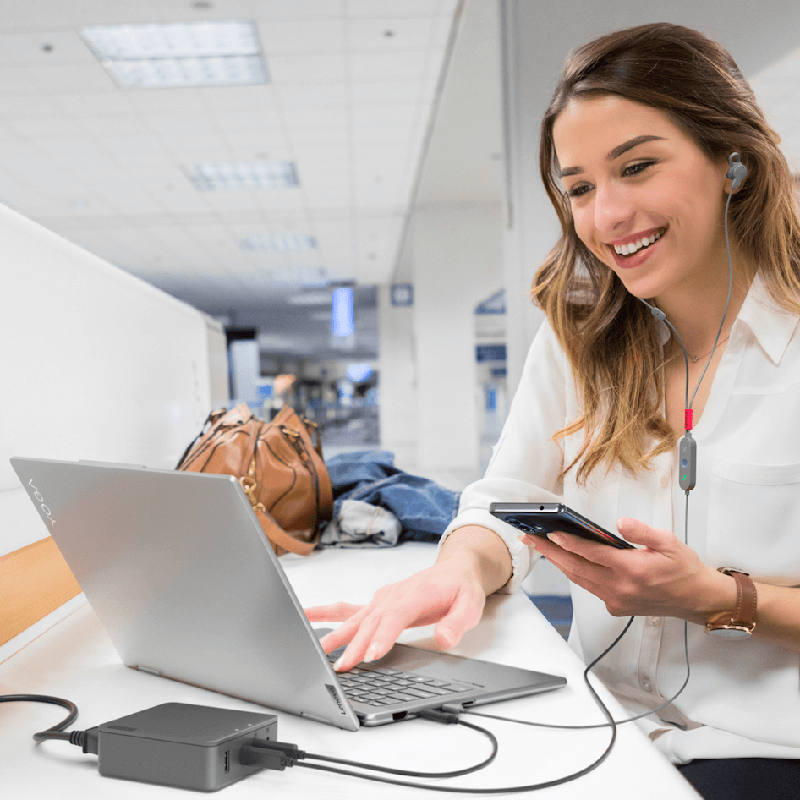 Trust our experts
Find the best solution for you
Do you need more information about our products?
We are at our customers' service to always provide an accurate analysis of your needs, identifying the best technological solutions.